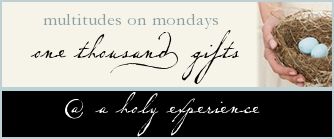 Im so behind in my 1000 gifts, they happen, they have most likely soared over 1000 by now. I started this list weeks ago, and finally coming to sit and continue.
446- bbq's with church family
447- feeling Gods total and absolute presence during worship
448- Unborn child spoken over. "Order. Theres an army rising up"- so very interested in what this child is going to do in the world when she makes her appearance
449- face painting
450- complete meltdowns by three year olds that cause a very pregnant mother to carry him home and cause her back to go out, because even in this God was there and He showed me things...mostly about my patience. LOL
451- children on a two week journey to my Mothers, lots of fun to be had, safe return
452- getting last minute details done for this miss to make her arrival in August
453- beach trips with inlaws and cousins. Port Stanley and Grand Bend for the first time for myself. Beautiful days
454- Sunfest on a Saturday with my husband. A beautiful day. so much food!!
456- dress up with a darling wee girl
457- crochet baby headbands
458- deep deep discussions with people about Christ. Some really hard, some really easy
459- free yarn
460- farmers markets
461- new crib mattress
462- birthing tub purchased. I FIT! LOL
463- ladies Bible Study.
464- 7 year old daughters eye for photography. She only asks for a snow cone for payment. Saving me hundreds this month! LOL
465- Worship with other churches in London in Springbank Park. Beautiful three hours of dancing and singing, sending praises to God Most High!
457- stolen wallet. Thankful nothing else was stolen and that things can be replaced
458- rainfall much needed.
459- a comfortable happy big baby in my belly. Midwife thinks she's not going to come before her due date. Anxious to see how big she will be.