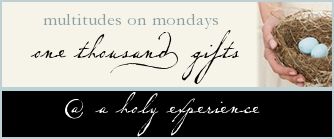 So much happens in seven days. So much we can miss. God showers us with blessings each day, theses are ours from this past...
402- fevers breaking
403- a house filled with cousins, late night sleep overs
404- watching grown adults trying to wake the other up. My husband lost that one LOL
405- a tiny earth made sandpit off our deck that kept the children filled with joy
406- Remnant teachers appreciation night. .. that was some delicious cake and a wonderful time with amazing people
407- bellies done in henna
408-being blessed with a garbage bag filled with cloth diapers for Tehillah. For free
409- giftings of baby girl clothing
410- coconut oil. I love you. I smell like a macaroon
411- water bans and teaching the children how to conserve.
412- clothes shopping with the fabulous miss Daisy.
413- Last days visits with a friend moving away. Coffee and laughs and heart to hearts (will miss you Tara!)
414-
cheese cake stuffed strawberries
.... oh yes please
415- late night on the back deck, a tea, a candle and the word of God. God speaking whipsers through the trees and through that beautiful scripture- psalm 132:2-5. Made me think all night
416- bedroom organizing
417- supporting my youngest sister as she takes on the American laws on bullying. Wanting change and stricter rules. Go Carol Go!
418- till one am conversations at the dining room table about God.
419- movie nights with the girls.
420- planning the kids summer vacation.
421- cute adorable little baby sundresses
422- a dearest friends marvellous ultrasound. 8 weeks along and heart beat so strong. God is good
423- teaching the little ones on Sunday. How God can do anything. Watching them all in their unique little ways taking His goodness in
424- dancing through the church very pregnant and eating a slice of pizza at 9am and not being looked at funny at all! LOL
425- May thunderstorms
426- gardens snails all in a row.